The family of Jesus was very devoted in observing the religious ceremonies of their people. In those times, as today, a most important festival of the Jews was the Passover. This is the time when thanks are given to Cod for leading the Jews out of Egypt, where they had lived in bondage as slaves.
Every year Mary and Joseph traveled all the way from Nazareth to Jerusalem, the capital city, to celebrate the Passover in the Temple. Most people made the trip together, in groups, for travel in those days was hard and dangerous.
At the end of the Passover, the large caravan of friends and relatives set out to return to Nazareth. Jesus was by this time a strong, capable boy, unusually thoughtful, so His parents did not watch over Him all the time. He did not always travel with them, but often walked with friends or relatives in the caravan.
Joseph and Mary thought nothing of it when they did not see Him during the first day on the road. But when the caravan stopped for the night and Jesus did not appear for supper, they searched the camp for Him. When they discovered no one had seen Him that day, they returned to Jerusalem as fast as they could.
For three days the worried parents went about the city, looking for their son. Finally they found Him.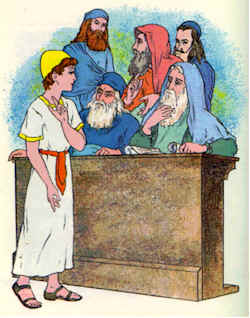 He was sitting in the Temple, surrounded by the wisest teachers and scholars in the country. And they were discussing the most serious ideas of religion with the twelve year old boy. When these learned men heard the answers Jesus gave to their difficult questions, they were astonished at the boy's knowledge and understanding.
Joseph and Mary were also astonished, when they saw their twelve year old son surrounded by learned men, and holding their interest. Mary was upset, as any mother would be. She told Jesus how anxious they had been, looking for Him, and she asked Him why He had caused them such worry.
Jesus seemed surprised that they did not know where He was. "Did you not know that I would be in my Father's house?" He asked. His parents did not really understand what He meant, although Mary knew deep down in her heart that Jesus would have to leave them one day, to carry out God's plan. And she and Joseph realized, that day in the Temple, that this was no mere boyish disobedience.
Jesus went back with His parents, and did everything they asked of Him, without question. And he remained with them in Nazareth, working as a carpenter with Joseph.