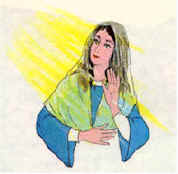 Joseph was a carpenter in Nazareth, a small town in the land of Israel. He was betrothed to marry Mary, who also lived in Nazareth. Shortly before his marriage Joseph had a strange dream. In it he saw an angel of the Lord, who came down from the heavens and spoke to Joseph.
The angel told him that after his marriage, Mary would have a son, sent by the Lord to save His people from their sins. And the angel said that the child should be called Jesus.
Now in those days, Israel was part of the Roman Empire, ruled over by the Emperor Caesar Augustus. Soon after Joseph and Mary were married, the Roman Emperor commanded all the citizens of the Empire to return to their own towns so that their names could be listed in a census. This would show how many people lived in the Empire, under Roman rule.
Both Joseph and Mary were descended from the Family of King David, so they returned to their hometown of Bethlehem, King David's birthplace. When they reached Bethlehem, the town was filled with people who had come in from the
countryside, to be listed by the Romans. Even though Mary was about to give birth, they could find no place to stay in Bethlehem. Finally they found lodging in a stable, where cattle were kept.
And there the baby was born. They had no crib for Him, so He was laid upon hay in a manger, which is the trough from which the cattle eat. On the night of the baby's birth some shepherds were tending their sheep in the field near Bethlehem. Suddenly a great light shone upon them, and an angel of the Lord appeared. They were frightened by the vision, but the angel said to them:
"Be not afraid; for behold I bring you news of great joy, which shall be to all people; for there is born to you this day in Bethlehem, the city of David, a Savior who is Christ the Lord." Then the angel told them how to find the child: "You will find a babe wrapped in swaddling clothes and lying in a manger."
Then they saw that the sky was filled with angels, and heard them singing: "Glory to God in the Highest. And on earth peace, good will toward men." Then the angels disappeared.
The shepherds immediately set out for the town. When they found Mary and Joseph with the babe lying in a manger, they repeated the message they had heard. Everyone was amazed. Mary, who had also been told by God of the great mission of her son, said nothing. But she thought deeply about these strange and wonderful happenings.